2023 New XHDATA D-109 FM ST/LW/MW/SW Global Band Stereo Wireless Bluetooth Radio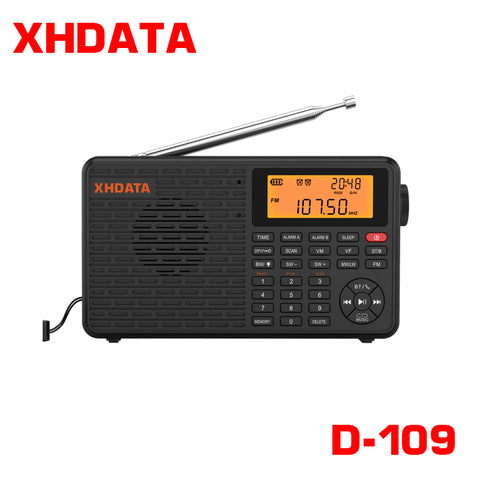 XHDATA D-109 is a new radio that will release in 2023. XHDATA D-109 can receive FM/LW/MW/SW Global Band. The sound quality is good, and it has FM stereo, wireless Bluetooth and other functions. D-109 radio is a very suitable radio speaker for daily use.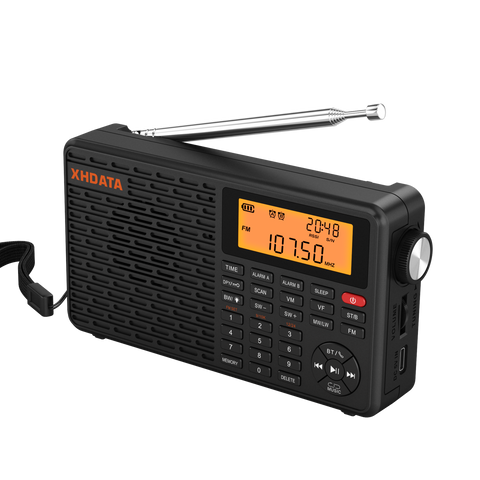 Main features:
【Product Features】XHDATA D-109 radio, including FM stereo SW MW LW DSP portable world band, ATS, AM/SW optional bandwidth, press the button direct frequency input, with alarm clock sleep time, battery power, screen lock, wireless Bluetooth function , 12/24 time system switching, etc.
【Configuration】High-quality materials and components enable the XHDATA D-109 output to perform well in all broadcasts including voice and music. Backlit LCD screen for easy night use. 365° extend the antenna to increase the received signal and bring a better listening experience. Use 18650 battery, stronger battery life, and lower interference to the band. XHDATA D-109 has excellent sound quality, FM stereo, very suitable for daily listening to the radio, satisfying your listening experience.
【Automatic Tuning Storage】: The XHDATA D-109 radio not only has a manual search mode. It also has an Auto-Tuning Memory (ATS) mode. Fully automatic scanning memory. Long press the corresponding frequency band key to automatically scan and memorize the radio frequency.
【Power supply】 XHDATA D-109 power supply includes 18650 battery, external 5V DC power supply, and USB type c charging cable.
Frequency Range:
FM: 64-108 MHz/76-108 MHz
87-108 MHz / 87.5-108 MHz
LW: 153-513KHz (9K)
AM: 522-1620KHz(9K) / 520-1710KHz(10K)
SW: 1711-2999KHz (5K)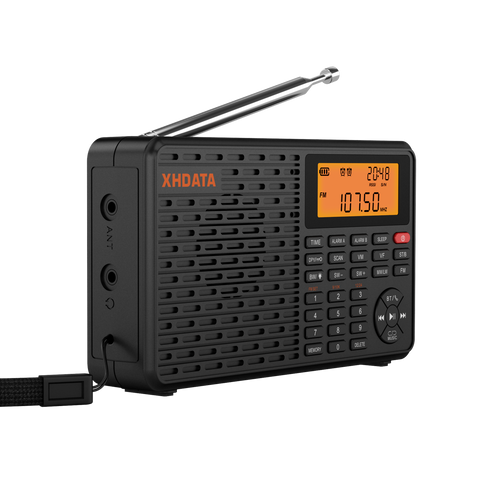 Memory radio frequency
FM: 100 pcs
LW: 100 pcs
AM: 100 pcs
SW: 300 pcs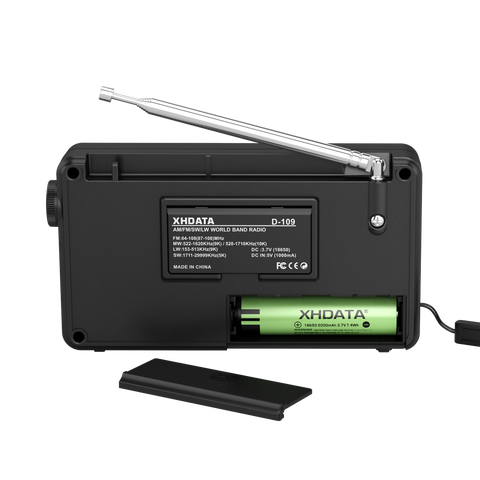 Please continue to pay attention to XHDATA Official Website for the specific release date. 
*Renew:
XHDATA D-109 is in pre-sale on XHDATA Official Website:
https://xhdata.com.cn/products/2023-new-xhdata-d-109?variant=44524515426622